 1. Eating in Trieste and local cuisine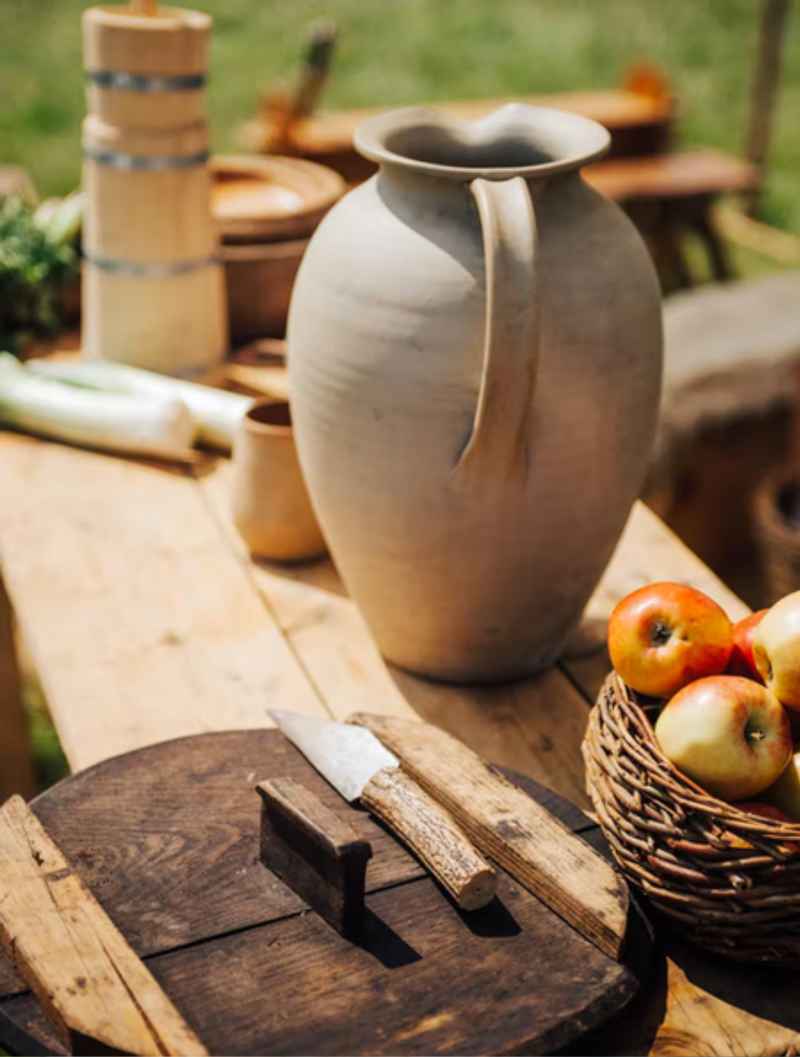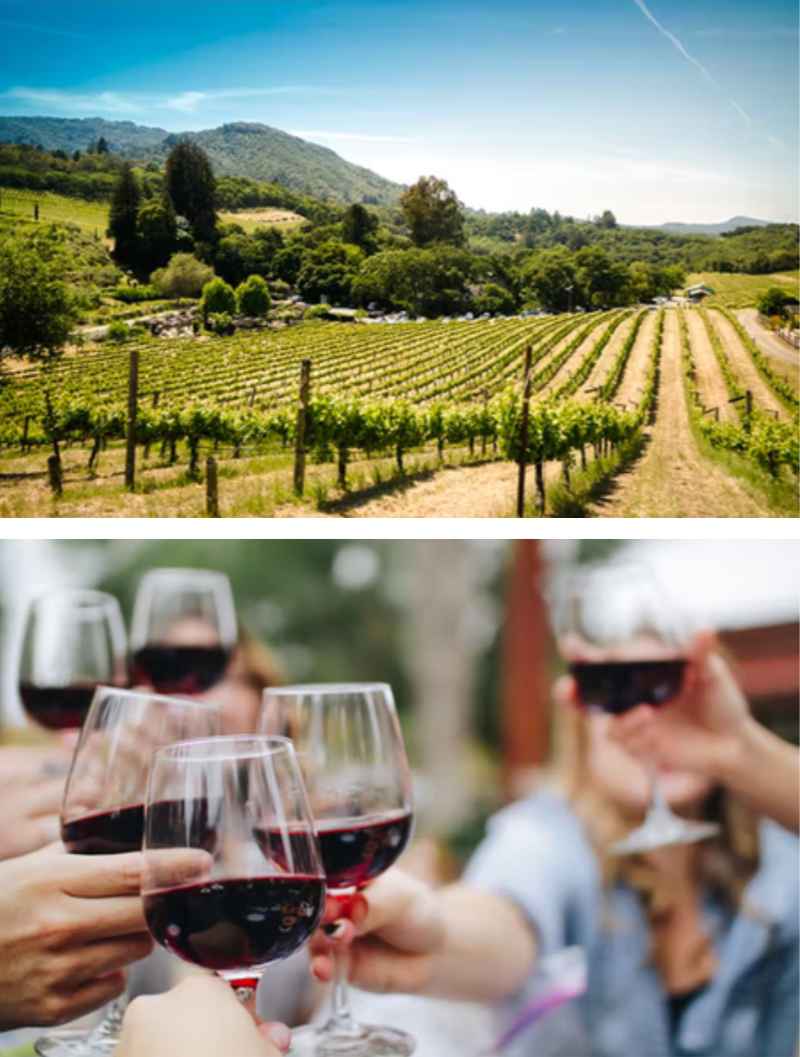 What is an osmiza? Where can you find the best restaurants in town? Is it better to eat in the city centre or the Karst region? Your thirst for knowledge will be quenched thanks to this mini guide!
WHAT IS AN OSMIZA? THAT IS THE QUESTION
An osmiza (also osmizza) is a traditional kind of farm on the Karst plateau between Italy and Slovenia. Here, local wines and products are sold and consumed directly on the premises or in the cellars of the farmers who produce them.
If you are visiting Trieste, you cannot miss this unique experience! However, since osmizas are only open for a limited number of days during the year, we recommend you always check the opening hours on their websites in advance. Below you can find the location of our favourite osmizas and a phone number for bookings
OUR FAVOURITE OSMIZAS:
---
AZIENDA AGRICOLA "VERGINELLA DEAN"
Where: Prosecco- Contovello, 460
Phone : +39 348 804 9335
---
OSMIZA STOKA E. E.
Where: Borgo S. Girolamo, 29, Trieste
Phone: +39 040 225859

---
OSMIZA v KUTU
Where: Prosecco - Contovello, 82 Trieste
Phone : +39 379 1702055

---
OSMIZA PIPAN KLARIC
Where: SP32, 58, 34011 Malchina TS
Phone : +39 040 2907049 - +39 3339352793
Check this website to see which osmizas are open today!
FUN FACT: PROSEKAR
Located just above the Villa, the villages of Contovello, Prosecco and Santa Croce (which you can reach by bus, by car, or on foot if you like a good hike) uphold tradition through the production of a typical local wine called Prosekar (which literally translates to "of the village of Prosek", village that is also known as Prosecco in Italian). This wine is the result of the combination of climatic and territorial conditions that are particularly suited to producing wine of the highest quality. Despite its name, though, it has very little to do with the Prosecco Doc wine we are used to. Prosekar is known for being a dry or sweet sparkling wine with a pale straw-yellow colour and greenish hues, this being a result of its traditional preparation through an ancestral method. It is made from local Karst grapes, namely Vitovska, Malvasia, and Glera. This wine makes a fine pairing with fish, cured meats and sausages, fish-based first courses, fresh cheeses, and sweet fritole, which are traditional fried pastries.
OUR EXCLUSIVE DISCOUNT
Too early to eat? No problem! Go grab an Italian-style apéritif at Super Bar Stella (Via Punta del Forno, 1) to get a 10% discount, if you have booked a stay on our website.
OUR FAVOURITE RESTAURANTS AND TRATTORIE::
Would you prefer a more classic meal? No problem! Villa Tergeste's tips will make everyone happy! Obviously, we do recommend trying out our restaurant, La Terrazza (pictured above). If you are looking for excellent wine and delicious fish-based courses, you cannot go wrong with us!
IN THE KARST REGION
AZIENDA AGRICOLA OSTROUSKA
www.ostrouska.it
---
AZIENDA AGRICOLA FERFOGLIA
Where: Via dei Moreri, 117
Phone Number: +39 040 43992
---
RUJ GOSTLINICA
Where: Dol pri Vogljah 16, 6221 Dutovlje, Slovenia
Phone Number: +386 57341720
IN THE CITY CENTRE
DA GIOVANNI
Where: Via S. Lazzaro, 14/b Trieste
Phone Number: +39 040 639396
---
AL TOSCANO
Where: Via Bonomea, 114 Trieste
Phone Number: +39 040 301460
2. Trieste and cultural heritage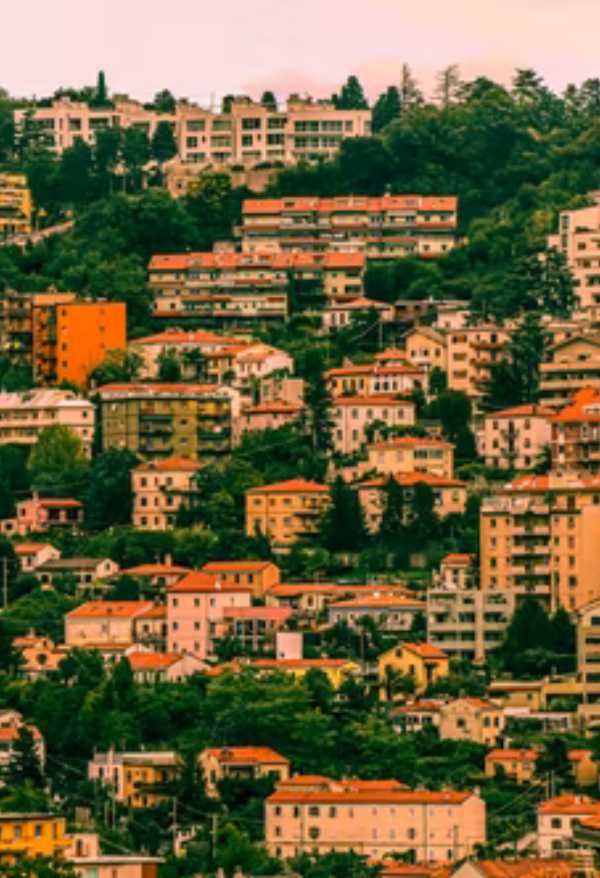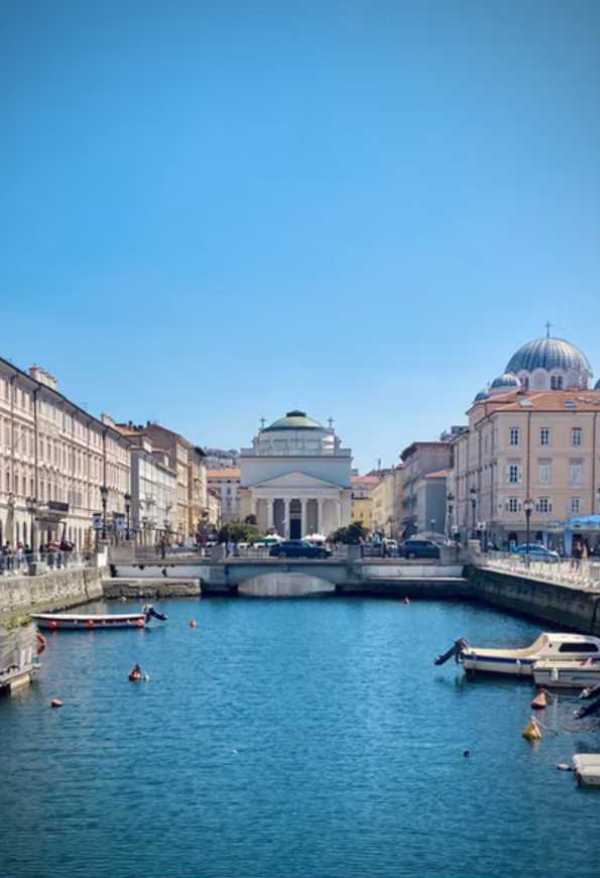 From Umberto Saba to Italo Svevo, from Margherita Hack to James Joyce, many great minds in history have contributed to making Trieste's cultural landscape extremely rich and international. Why not use your holiday to explore it?
IMPORTANT MUSEUMS
MUSEO REVOLTELLA
The Revoltella Museum is a very important modern art gallery that hosts works by Italian authors of the second half of the 19th century, pieces purchased between the end of the 19th century and World War I, international exhibitions, artwork by artists in Trieste in the early 20th century and in Friuli Venezia Giulia during the last fifty years, and lastly, pieces from the national panorama of the second half of the 20th century.
Where: Via Armando Diaz 27 Trieste
Opening hours: 9AM - 7PM, Wed-Mon
OUR EXCLUSIVE DISCOUNT
Are you interested in an exhibition in Trieste? Thanks to our collaboration with Federalberghi (an organisation of Italian hotels) we might be able to offer you vouchers to see it for free! Ask the reception desk staff to check what availability we have at the moment!
SALONE DEGLI INCANTI
Eclectic exhibition hall for lovers of modern and contemporary art.
Where: Riva Nazario Sauro, 1 Trieste
Opening hours: Mon-Fri, 9.30AM-8.30PM, Sat-Sun 9.30AM-9PM
---
MIRAMARE CASTLE AND PARK
Just a 5-minute walk from the hotel, you can find the historical Miramare Castle and the Miramare Biosphere Reserve. In the reserve, thanks to the helpful and knowledgeable team of experts, you can take part in seawatching tours. After a brief explanation about what you are going to see, you'll be able to dive in! A wetsuit, fins, and a mask will be provided to you.
Where: Viale Miramare Trieste
Opening hours: every day, 9AM-7PM
---
SAN GIUSTO CASTLE
The San Giusto Castle is a fortress-museum located on the hill of the same name. The historical dwelling was renovated in the 2000s and has been made into a civic museum by the Municipality of Trieste, which has owned the building since 1930.
Where: P.za della Cattedrale, 3 Trieste
Opening hours: Tue-Sun, 9AM-5PM
Maggiori Informazioni
SAN SABBA RICE MILL NATIONAL MONUMENT AND MUSEUM
After September 8th, 1943, the San Sabba Rice Mill was used by Nazi invaders as a prisoner-of-war camp and was later designated for the sorting of deportees to Germany and Poland. In 1975, the rice mill (risiera in Italian) was renovated according to a project made by architect Romano Boico and became a civic museum with the name "San Sabba Rice Mill National Monument and Museum".
Where: Via Giovanni Palatucci, 5 Trieste
Opening hours: : every day, 9AM-5PM
---
MUSEO DELLA GUERRA PER LA PACE "DIEGO DE HENRIQUEZ"
IThe "Diego de Henriquez" War Museum for Peace exhibits the extraordinary collection of Diego de Henriquez, acquired by the Municipality of Trieste in 1983. The collection consists of approximately 15,000 objects from both World War I and World War II.
Where: Via Costantino Cumano, 22 Trieste
Opening hours: closed on Tuesdays. Mon, Wed, Thu, Fri, 10AM-5PM
Sat-Sun, 10AM-7PM

---
SCIENCE CENTRE
The Science Centre (Immaginario scientifico in Italian) is located in the stunning Grignano bay, right behind the Miramare Park of Trieste. It is an interactive and experimental science museum.
Where: Magazzino 26 Trieste
Opening hours: : Tue-Sun, 10AM-6PM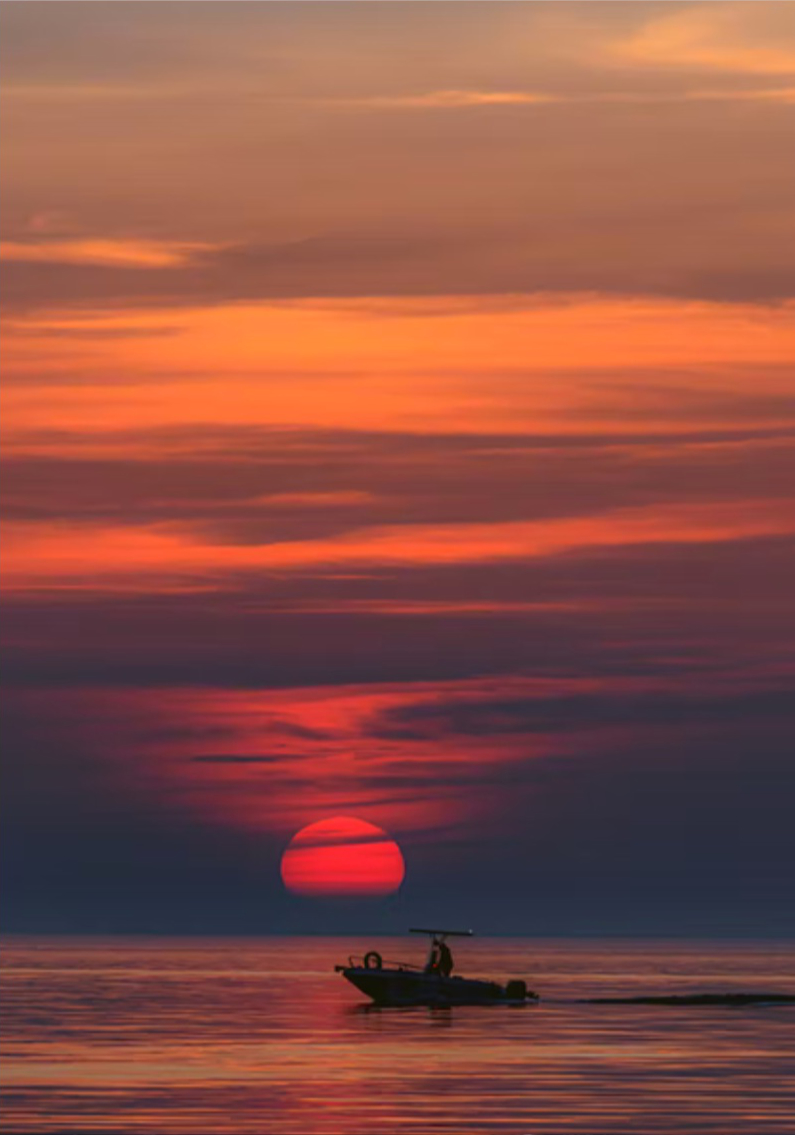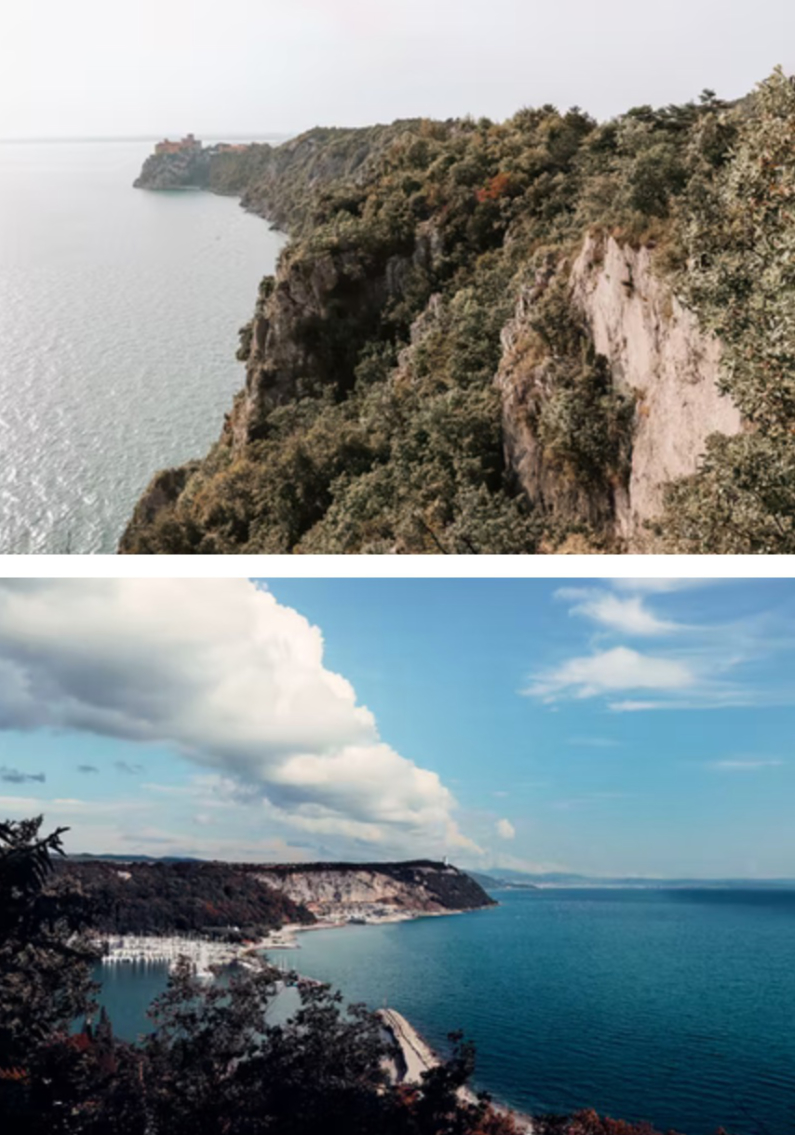 Explore Trieste and its distinctive landscape by enjoying trails, parks, and nature reserves.
TRAILS
NAPOLEONIC WAY
If you like a good walk, you should definitely consider walking the Napoleonic Way, a beautiful five-kilometre-long path immersed in nature. Along this easy trail, which connects the villages of Opicina and Prosecco, you will be sheltered from the Bora wind and, yet will still enjoy some sunny stretches. You can either walk a wide gravel road or narrower paths through the woods.
RILKE TRAIL
One of the most beautiful and scenic trails in the area, the Rilke trail overlooks the Gulf of Trieste and links the towns of Sistiana and Duino.
NATURE PARKS

NATURE RESERVE OF THE ROSANDRA VALLEY
Located just a few kilometres outside of Trieste, the Rosandra Valley (also known as Dolina Glinščice in Slovenian) boasts the only surface water course in the Trieste Karst region, as well as a rich natural heritage. For more information on the Visitor Centre's opening hours, itineraries, and weather: http://www.riservavalrosandra- glinscica.it/
MIRAMARE
"The biosphere trail".
The biosphere trail consists of three different itineraries that will enable you to discover the history and the nature of the UNESCO Miramare Reserve and the Triestine coast.
Nature trail.
Perfect for those seeking to explore the Miramare park and its diverse environment.
Marine Protected Area of Miramare..
Perfect for those who want to explore the smallest marine WWF Oasis and enjoy a mix of modernity and tradition, preservation, science, and tourism.
JOSEF RESSEL TRAIL
MOUNT LANARO RESERVE
MOUNT ORSARIO RESERVE
---
OUR FAVOURITE GUIDE
Sara Famiani - nature and regional tour guide
Phone Number +39 340 7634805
WEBSITE www.estplore.it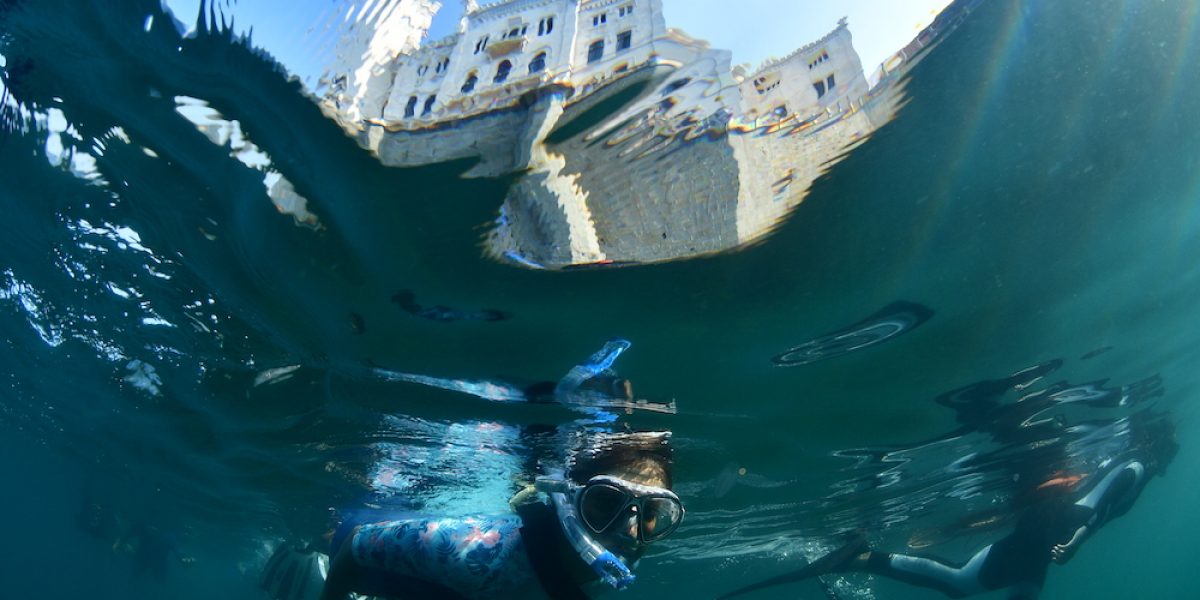 SEAWATCHING
What better way to visit a marine reserve than to dive into its protected waters, to discover its rich biodiversity of habitats and species?
We are talking about Seawatching, or surface finswimming, an activity you can take part in every year from June to September. Small groups are accompanied by qualified WWF staff and get the opportunity to fully experience the Marine Protected Area. This means being able to observe the hundreds of animal and plant species that populate it, swimming among shoals of dreamfish, white seabreams and damselfish, coming across the rarest brown meagre, or spotting organisms that untrained eyes wouldn't normally notice, such as blennies, nudibranchs, sponges, anemones and many others.
WHEN: every Saturday and Sunday from July 2nd to September 2nd, at 10am and 4pm
DURATION: about two and a half hours
MEETING POINT: BioMa (Marine Biodiversity Centre)
COST: 25€ per participant. Special discounts apply for FVG Card and Family Carnet holders!
EQUIPMENT AND FACILITIES: free use of fins and neoprene wetsuit; guided tour of BioMa included; toilets and changing rooms are available for participants
REQUIREMENTS: being able to swim and use snorkelling equipment
RESERVATION: it is compulsory to make a reservation!
Phone Number +39 040 224147 - int 3 (Mon-Fri, 10am-1pm)
Phone Number +39 040 224346 (Sat and Sun, 10am-6pm)
Mail: infosub@riservamarinamiramare.it
Website: www.ampmiramare.it
PAYMENT: you can pay either in cash or by card at BioMa or by making a bank transfer in advance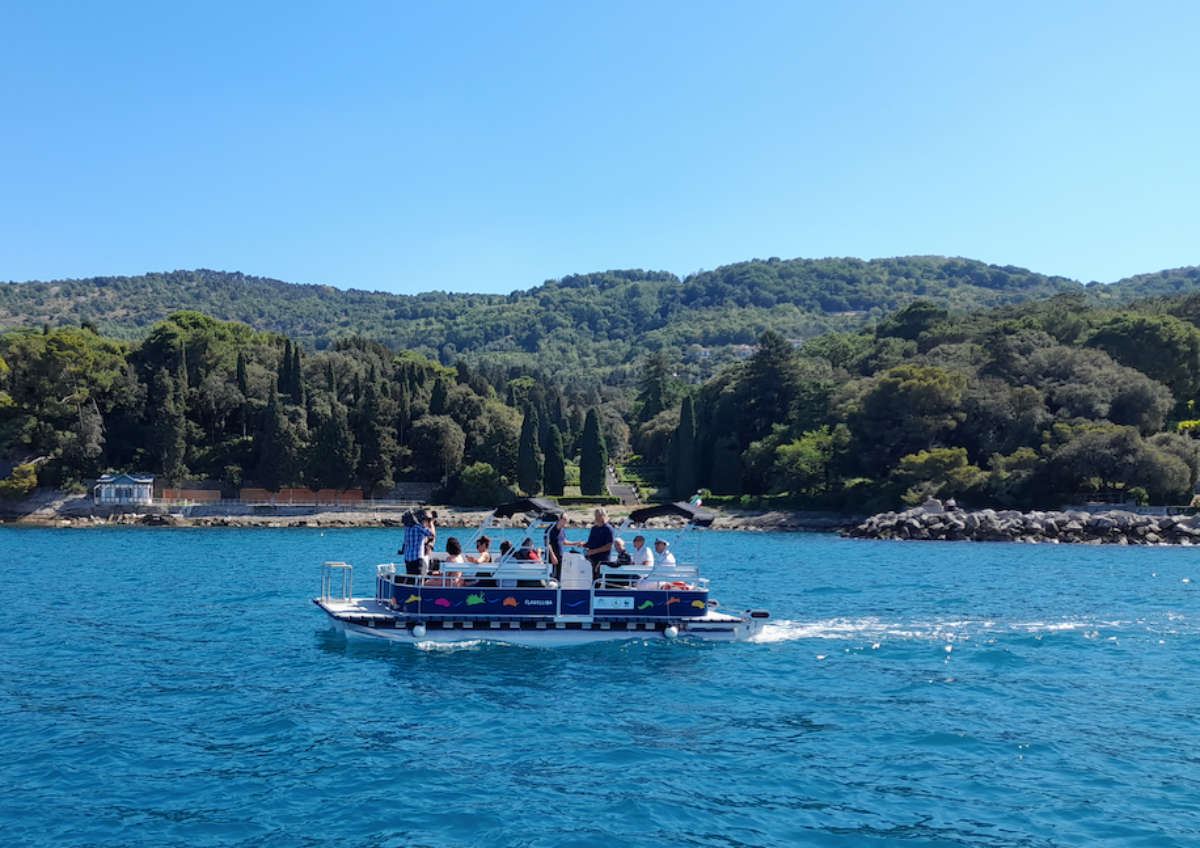 SOFT LIGHTS AND QUIET: THE SEA SPEAKS
Excursions at sunset aboard the Flabellina
The Flabellina is an electric boat of the Marine Protected Area of Miramare. It can host up to 12 people plus WWF staff and it is decorated with colourful stylised shapes that resemble the nudibranchs one can find in the reserve. The Flabellina will be used to achieve one of the area's institutional objectives, namely sharing notions of environmental education and popular science with regard to the marine environment. Miramare has been acknowledged at a national level but also in the whole Mediterranean for these efforts. Thanks to this new boat, which is already in use, WWF staff will be able to take children and young people from summer centres, students, snorkelers and tourists on nature excursions between Miramare and Santa Croce.
---
INFO AND RESERVATIONS
Phone Number +39 040 224147 – int 3 (lun-ven 10-13)
Phone Number +39 040 224346 (sab e dom 10-18)
Mail: info@riservamarinamiramare.it
Website: www.ampmiramare.it

by Giulia Franchi in collaboration with Villa Tergeste.
LA MIA ANIMA È A TRIESTE
JAMES JOYCE